About Us
We know that giving the perfect gift is the best feeling in the world, so we want to make it as easy as possible for you to do just that. That's why we offer:
Gift cards for every occasion
A wide range of great retailers
A quick & simple purchase process
Friendly customer service, 7 days a week
Card personalisation
Why One4all
With a One4all Gift Card, you can be sure you're giving a gift your recipient will love. Why? They can spend it almost anywhere, on almost anything – whether they're a fashionista who needs to stay on top of the latest trends, a foodie with an adventurous palate, a movie-buff who can't miss seeing the latest blockbuster on the big screen, a spa goddess who loves being spoiled with luxury treatments, or a tech guy who's not himself without the best gadgets…we could go on! With hundreds of stores and services to choose from, the One4all Gift Card is the ultimate gift of choice.
Our History
In 2000, after a frantic round trip across the city to buy a voucher for Christmas, entrepreneur Michael Dawson came up with the idea to create a gift voucher that was more convenient to purchase. Two years later, after much hard work and preparation, The Gift Voucher Shop officially launched in Ireland. The product at the time was branded paper gift vouchers that could be spent in 500 retailers and were sold through 1,000s of Post Offices Nationwide, online and through a corporate sales team.
Today, paper gift vouchers are a thing of the past as we at GVS are the creators of the market-leading multi-store One4all Gift Card, which is available in physical and digital gift card offerings. The retailer portfolio has expanded to over 60,000 leading stores across retail, services and online in Ireland, the UK, ensuring that with a One4all Gift Card, customers have the ultimate choice.
60,000
Retailer Outlets
13,200
Sales Outlets
6,000
Corporate Clients
Classic Gift Card
Whether you're celebrating a birthday, want to say 'thank you', or give someone a pick-me-up 'just because', the One4all Gift Card is the perfect gift. Accepted at 1000s of retail outlets nationwide and online, and with a great range of designs to choose from, it's the gift that's for every occasion, celebration, taste and style. Here are some features of the One4all Gift Card:
Multi-store gift card, accepted in a wide range of retail outlets
Convenient and flexible to purchase. Available to buy online or in Post Offices, Tesco, Morrisons or Co-op
Great range of gift card designs for every occasion
Budget-friendly. Can be loaded with any amount from £10 to £120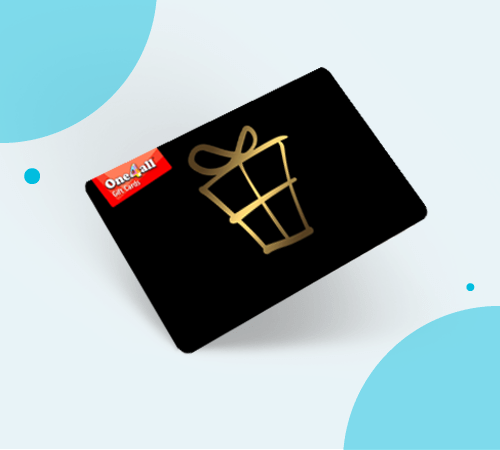 Digital Gift Card
As more of us switch to contactless payments and using our smart devices to make purchases, the One4all Gift Card is also available in digital format. Like the traditional One4all Gift Card you know and love, but one you can buy, send and spend all on your mobile phone. Staying connected to the people and occasions that matter to you has never been easier. Here are some features of the One4all Digital Gift Card:
End to end digital gifting from mobile or desktop
Instant delivery 24/7 gifting. No more postage of gift cards
Funds loaded into Apple or Android pay. Tap & pay in store with your mobile device
Customise with a photo or video message
Contact
Whether you're buying a One4all Gift Card for someone or have one to spend, if we can help at all, you can reach us via email.