Family Activities For The Summer Holidays
The long-awaited summer holidays have finally arrived so now is the time to fill these six weeks with activities and memories for the whole family to enjoy. There is no better way to spend quality time together and keep everyone entertained this summer than going on an adventure, learning a new skill or exploring a new area.
Take a look at these five family activities, which can all be bought with your One4all Gift Card, to help fill your summer with fun.
The Adventurous Experience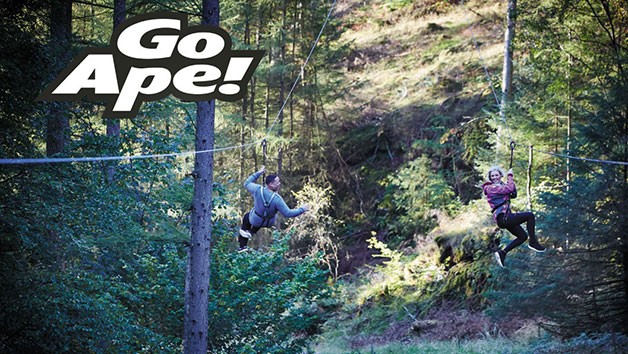 Fit in some family bonding time this summer with an adventurous day out hanging in the trees at Go Ape. Perfect for getting outdoors and exploring, this is an activity that will certainly excite your little ones and give them something new to try.
Go Ape, from £66.00, from Red Letter Days
The Magical Experience
For something a little different this summer, take the kids out to explore the Wookey Hole Caves, a spectacular day of magic and illusions for the whole family to enjoy. Whether you want to go for a long walk around the Mystic Fairy Garden, explore the caves or discover dinosaurs, there's a range of activities to enchant everyone.
Wookey Hole Caves, £19.95, From Wookey Hole Caves
The Cinematic Experience
If you're looking for a family afternoon out or to entertain a group of your little one's friends, the cinema is the perfect activity. With a number of thrilling blockbusters out this summer, heading to your local Vue could be just the ticket to win them over. Grab yourselves some popcorn, sit back and settle in to watch a great film together.
Vue Cinema, From £5.00, at Vue
The Range of Experiences
Whatever the weather this summer, there is always an activity to get the family outdoors. From Kew Gardens to Blackpool Pleasure Beach, Virgin Experience Days has an array of activities to keep the whole family entertained with adventures around the country. Get the family out the house and onto the road while making some thrilling family memories.
Kew Gardens, From £48.00, from
Virgin Experience Days
The Overnight Experience
If you're looking for an extended family activity, book into Butlins this summer. With everything from splashing about in the pool to riding the fairground rides, there is endless fun to be had. With freedom for the whole family to explore and try out new things, Butlins is the perfect activity for families looking to get away and make lasting memories.
Butlins, From £464, from Butlins
Tell us your favourite family activities using the hashtag #One4allTips with the handle @One4allUK on Facebook and @One4allGiftUK on Twitter.