Christmas Break Family Games
There's nothing better than a spot of festive competition over the holidays, with Christmas Day being no exception. It's the perfect opportunity to spend quality time with loved ones and come together for some light-hearted family games.
To help offer some inspiration for the perfect Christmas break games night, check out our top five games this year. Let the games commence!
Use Your Words
Bring everyone together this Christmas with this fast-talking board game, a fantastic option for up to 20 players to team up and compete against one another. This is a hilarious team game of quick fire descriptions and will be a great crowd pleaser for the festivities.
Articulate! Board Game - £19.99 – Argos
On Your Head
This inflatable reindeer antler ring toss game creates the perfect interactive game for family members of all ages, while providing lots of laughter throughout the day. Simply throw the rings onto the antler and create a wonderful festive atmosphere at home this Christmas.
VEYLIN Christmas Party Game Inflatable Reindeer Antler Ring Toss Game - £8.99 - Amazon
A Christmas Classic
Sometimes it's nice to play a classic game with the family at Christmas, and dominoes is definitely an old time favourite. This stylish domino set from John Lewis provides the basis for a variety of different games, enough to get all the family involved in the festive fun.
Tradition with a Twist
Monopoly is back with a Christmas twist this Christmas, with this festive edition board from Toys R Us. Enjoy this spin on the family favourite, complete with novelty figures including Santa and a reindeer. It's the perfect family game to bring everyone together on Christmas day.
Monopoly Christmas Edition Board Game - £29.99 – Toys R Us
True or False
Card games are always a hit amongst friends and family, and this hilarious trivia game certainly won't disappoint. It's time to figure out fact from fiction and truth from lies with this True or False card game, making this Christmas one to remember.
Lagoon True or False? Game - £8.40 – Debenhams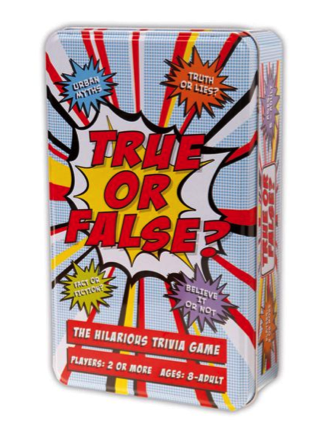 Tell us your favourite family games using the hashtag #One4allTips with the handle @One4allUK on Facebook and @One4allGiftUK on Twitter.