Easy Back To School Snack Recipes For Busy Mums
Back to school season is upon once again with primary and secondary schools opening their doors on another year in the next couple of weeks.
After a Summer of relaxing holidays – be it staycations or exotic trips abroad – it's time to get back to the regular routine of juggling it all; from early starts to meal planning, uniform prep to homework help.
If you're stuck for ideas on what to feed your mini-mes during the school year, don't panic, we've done the work for you and put together a list of easy snack recipes that are perfect for fuelling busy bodies. And don't forget, you can use your One4all Gift Cards in our great food retailers to fill up your ingredients cupboard!
Tasty Savoury
Bell Pepper Nachos
Recipe via Delish
Ingredients:
4 bell peppers, cut into small wedges
2 tablespoons extra-virgin olive oil
½ teaspoon ground cumin
½ teaspoon chili powder
¼ teaspoon garlic powder
Kosher saltFreshly ground black pepper
1 ½ cup shredded Monterey Jack
1 ½ cup shredded cheddar
1 cup guacamole
1 cup pico de gallo salsa
1/2 cup pickled jalapeño slices
1/2 cup sour cream
1 tablespoon milk (or water)
Lime wedges, for serving
Directions:
Preheat oven to 425°F and line two small baking sheets with foil.
Divide bell peppers between baking sheets. Toss with olive oil, cumin, chili powder, and garlic powder. Season generously with salt and pepper. Lay the wedges on the baking sheets in a single layer, cut side up. Bake until peppers are crisp-tender, about 10 minutes.
Top bell peppers with both Monterey Jack and cheddar. Bake until cheese is bubbly, about 10 minutes.
Top with guacamole, salsa, and pickled jalapeños. In a small bowl, whisk sour cream and milk together and drizzle over bell peppers. Squeeze a lime wedge on top and serve with more lime wedges.
Cauliflower Pizza Bites
Recipe via Delish
Ingredients:
1 large head cauliflower
2 large eggs
1 cup shredded mozzarella, divided
¼ cup freshly grated Parmesan
3 tablespoons finely chopped fresh basil, divided
1 tablespoon garlic powder
Kosher salt
Freshly ground black pepper
½ cup marinara
¼ cup mini pepperoni
Directions:
Preheat oven to 400°F. Grate cauliflower on the small side of a box grater to form fine crumbs. Transfer to a large bowl.
Add eggs, 1/3 cup mozzarella, Parmesan, 2 tablespoons basil, and garlic powder to bowl and season with salt and pepper. Form into small patties (they will be wet) and place on a greased baking sheet. Bake until golden, 20 minutes.
Top each cauli patty with a thin layer of marinara, a sprinkle of the remaining mozzarella and mini pepperoni and bake until cheese melts and pepperoni crisps, 5 to 7 minutes more.
Garnish with remaining basil and serve.
Lasagne Grilled Cheese Bites
Recipe via Delish
Ingredients:
¼ cup mayonnaise or butter, for grilling bread
8 slices sourdough bread
½ jar marinara sauce
1 container ricotta
2 cups shredded mozzarella
Directions:
Spread butter or mayonnaise on one side of each slice of bread, putting each slice butter-side-down on a platter or piece of parchment paper.
Spread marinara sauce on each slice of bread, then slather on ricotta. Sprinkle mozzarella cheese on every other sandwich, then assemble sandwiches.
In a frying pan over medium heat, grill sandwiches until each side is lightly golden and the cheese has melted, 1 to 2 minutes per side.
Let sandwiches sit for 10 minutes before cutting them into bite-sized pieces. (This keeps the ricotta from spilling out everywhere.)
Serve with marinara sauce for dipping.
Pizza Toast Recipe
Recipe via Delish
Ingredients:
6 slices bread
1 cup pizza sauce
2 cups shredded mozzarella
½ cup mini pepperonis
1 tablespoon parsley
Directions:
Preheat oven to 350° and line a medium baking sheet with parchment paper. Place bread on prepared baking sheet and spread with pizza sauce. Top with mozzarella and mini pepperonis and place in the oven. Bake until cheese is melted and pepperoni is slightly crisped.
Garnish with parmesan and parsley and serve.
Sweet Treats
PB & J Apples
Recipe via Delish
Ingredients:
2 apples
¼ cup peanut butter
¼ cup jam
Directions:
Slice apples into ¼" rounds. Use a small cookie cutter to cut the core from the centre of each slice.
Spread peanut butter and jam on half of the slices then cover with the remaining halves.
Serve immediately.
Banana Bites
Recipe via Delish
Ingredients:
2 bananas, peeled
¼ cup peanut butter, divided (you could also use almond or sunflower butter)
2 tortillas
Directions:
Place one tortilla on a flat surface and spread 2 tablespoons of peanut butter on the tortilla to evenly coat.
Place one banana near the edge of the tortilla and roll it up.
Slice into ½ inch rounds and serve.
Donut Apples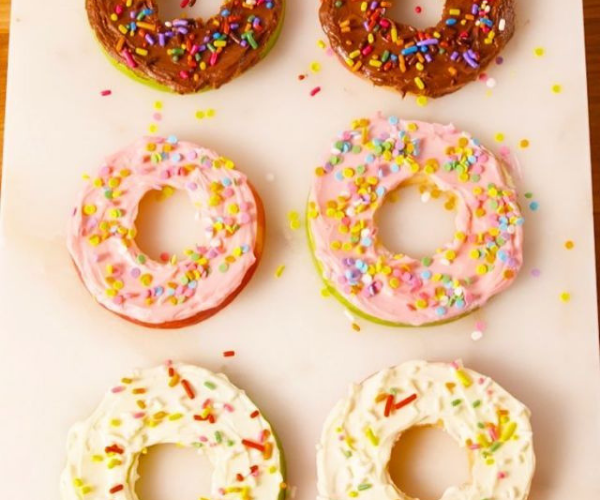 Recipe via Delish
Ingredients:
12 oz. cream cheese, softened, cut into thirds
2 teaspoons honey, divided
½ cup melted chocolate
2 drops pink food colouring
3 apples
Assorted sprinkles, for decorating
Directions:
Divide cream cheese among three small bowls. In one bowl, add 1 teaspoon honey. In another bowl, add melted chocolate. In the last bowl, add remaining 1 teaspoon honey and pink food colouring. Stir each bowl together until combined.
Slice apples and use a biscuit or cookie cutter to hollow out centres.
Spread mixtures on apple slices and top with sprinkles.
Banana Penguins
Recipe via Delish
Ingredients:
6 bananas
1 cup melted chocolate
1 tablespoon coconut oil, melted
24 candy eyes
36 orange M&M's
Directions:
Peel bananas. In a small bowl, mix together melted chocolate and coconut oil.
Dip tops of bananas in melted chocolate, making sure to dip back side of bananas in chocolate.
Dot melted chocolate on bananas for eyes and feet and add candy eyes and orange M&M's. Freeze 20 minutes.
Feature image credit: freepik/@freepic.diller