How To Create The Ultimate Capsule Wardrobe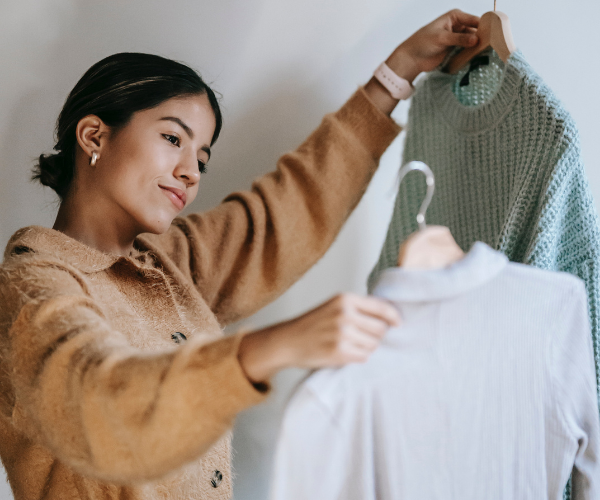 Are you looking to build a wardrobe with pieces you love that were made to last? With the movement towards design that promotes environment and social responsibility, more brands and design houses are paying attention and incorporating eco-friendly design strategies to their collections going forward. There's Stella McCartney who's constantly exploring and experimenting with new sustainable materials and technology. Sandra Sandor who's started to use vegan leather and upcycled materials to create her designs. Re/done who give clothes another chance by making them into something new. And Veja who make Meghan Markle's favourite trainers through organic farming and ecological agriculture. Plus, many more brands.
If you're looking to fall back in love with your style again after a long period of loungewear but want to incorporate more 'buy now, wear forever' pieces into your wardrobe, celebrity stylist Mark Heyes has teamed up with One4all as part of our Fashion Favourites campaign to give you the advice you need. He says: 'At the moment, we are seeing so many women drawn to party clothes and purchasing bright, colourful dresses as we say goodbye to lockdown and hello to the fun festive season! Nevertheless, for as much as the nation is excited to get out and party dressed to the nines, the value of a good capsule wardrobe will never go out of style.'
He continues: 'Curating a capsule wardrobe which is 100% you and includes these timeless fashion pieces like the ever-popular well-fitting jeans and classic white t-shirt will really help avoid the daily dressing dilemmas we all can face from time to time and guarantee smart style, no matter the occasion.'
Below, Mark shares his top 5 tips on curating a capsule wardrobe incorporating hero fashion pieces which will stand the test of time:
Know When to Spend: If you often find that you're replacing the same item of clothing in your wardrobe regularly, such as handbags, then it's a good idea to invest in a high-quality, statement piece that can stand the test of time. Let's face it, nothing gives you more confidence than strutting your stuff with a great bag!
Mix and Match: When curating your essentials, don't shop with individual outfits in mind but for pieces that will compliment the rest of your wardrobe and that you can mix and match with. Think about the pieces in your wardrobe you feel most confident in, or most align with your personal style, and build from there.
Take Inspiration: If you feel stuck in a rut with your style, or want to try something different, then take inspiration from the people around you, TV shows, your favourite celebs, and social media. Create an album of photos on your phone of some outfits you'd like to recreate and take this with you when you shop.
Don't Worry About Measurements: Sizes can change drastically from shop to shop, so don't be disheartened if you have to size up or down when curating your capsule wardrobe. Instead, focus solely on the fit and how the piece this looks on your body.
Have fun with Trends: Once you've got your capsule wardrobe down, take a look at the trends coming in and out of style. Whilst some simply won't be for you, injecting trend-led pieces into your capsule collection is a great way to freshen up your look and stay in love with your hero pieces!
Top 5 wardrobe essentials, according to British women:
Well-fitting jeans (80%)
Basic white t-shirt (68%)
Classic trainer (63%)
Little black dress (49%)
Black tailored trousers (39%)