Keep warm on chilly nights by wrapping up! Make sure you have plenty of layers to put on as we head into the coldest month of the year. Whether you're treating yourself to a new pair of gloves in the January sales or getting little ones a new coat to stay cosy in, there are plenty of ways to keep the cold away while out with friends or on a family walk.
We've selected some of our top warm winter picks to help keep the frost bite at bay, all available with a One4all Gift Card!
Winter Chic
Don't let the frosty winds compromise your style choices and stay chic in the cold weather with this Long Double Breasted Pea Coat from Warehouse. A great neutral colour, the coat can be dressed up or down depending on what your day or evening has in store, while keeping you toasty.

Long Double Breasted Pea Coat, £79.00 from Warehouse
Dapper jumpers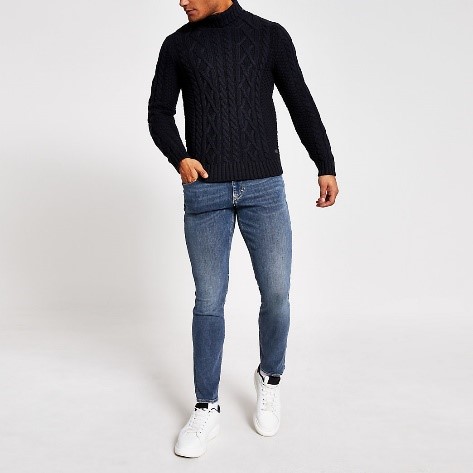 A roll neck jumper is the perfect addition to any winter wardrobe. With a beautiful cable knit design, this jumper from River Island will keep the wearer warm while looking on trend. An ideal weekend wear item, this jumper is certain to keep you cosy while out on long wintery walks.
Only and Sons navy cable knitted jumper, £36.00 from River Island
Bright Accessories
A bold pair of gloves are sure to be the statement piece of any outfit this winter. While helping to protect your hands from the cold weather, investing in a colourful pair of gloves will brighten those drab winter outfits you're tired of. This pair from John Lewis are a great option and pairing them with a matching scarf will complete your look.

Bright Orange Fleece Lined Leather Gloves, £12.50 from John Lewis
Rawsome Coats
Keep little ones protected from the elements in this awesome dinosaur coat from Marks & Spenser. Available in a range of sizes, little ones will look forward to wearing this coat for their next outdoor adventure. The envy of all the playground, the bright colours will also make little ones easy to spot while they play.
Dinosaur Print Padded Coat, £13.00 from Marks & Spencer
Playful Leggings
Perfect for all the winter activities your kids get up to, these cosy leggings will keep little legs warm while they run around. With a fun gold spotted print, girls will love to wear these leggings wherever they go. Made from a fleece material, the leggings won't get in the way of playtime whether it's inside or out!
Kids Coziest Leggings, £19.95 from GAP
Tell us your favourite warm winter items by using the hashtag #One4allTips with the handle @One4allUK on Facebook and @One4allGiftUK on Twitter.